30/01/16
The golf course will be remain closed this weekend due to the snow. 
25/01/16
Yesterday's 9 Hole Stableford was won by David Wynne with 22 points, and 2nd was Vincent Egan with 20 points. The weekly 9 hole returns this week. Can be played Mon-Sat inclusive. This coming Sunday's competition will be a 9 hole stableford.  
The Spring League for this year isn't too far over the horizon now, with three rounds scheduled over the first three weekends of March. A signup sheet will be available on the noticeboard in the clubhouse. Teams will be comprised of three players. The three formats to be played are: Scramble, Rumble & Shambles.
The club received good news this evening regarding the CGI application as mentioned last week. 
Snippet from the email below. 

Spring League Promo Poster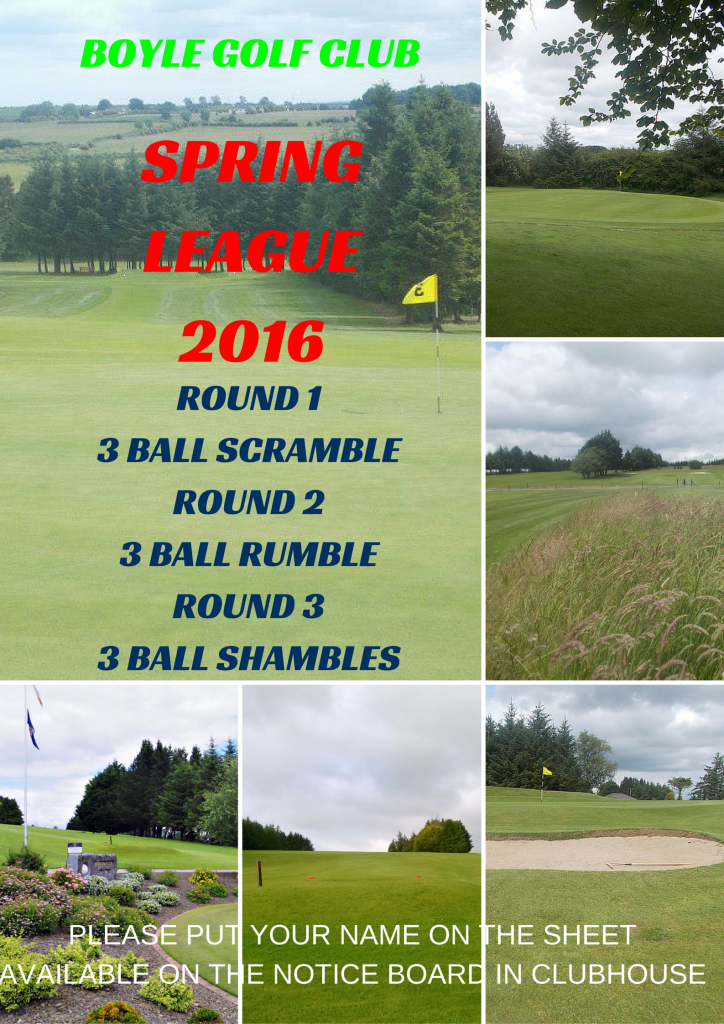 21/01/16
The golf course re-opened today, slightly earlier than predicted! There is a 9 hole stableford scheduled for this Sunday with re-entry. As usual, tee times can be booked online. 
18/01/16
Mother Nature has remained against us in recent times with no on course action to report. Realistically, it may be another two weeks at least before the course is fit for play. 
Letters regarding membership subscriptions for the year will be issued via post or email in the coming week. The club encourages members to submit their fees as early as possible although we realise it can be a busy time of year financially for people. To aid with this there are flexible payment plans in place to ease any strain. Contact Michael at info@boylegolfclub.com for more details.
An application has been submitted to the CGI, the national body responsible for promoting golf participation, in relation to assistance in holding a Get into Golf Programme for 2016. This includes a 5 week school's programme and also golf classes for adults. Subject to its acceptance, we will be seeking a number of members to help in various ways.
The club wishes to extend its sympathies to the Lavin families on the recent passing of Florence. Ar dheis dé go raibh a hanam.