December 28th 2015
Last Sunday's Christmas Scramble was postponed due to a waterlogged course. It has been provisionally rescheduled for New Year's Day if the conditions allow. The times remain the same: draw at 12.30pm & tee off 1pm. The levels of precipitation experienced during the past month has made it very difficult to fulfil all competitions on the fixture calendar. However, it is hoped that a regular schedule will be resumed in early January. This includes a nine hole stableford set to be held next Sunday, January 3rd. Finally, may all members, visitors & friends of the club have a happy and peaceful new year.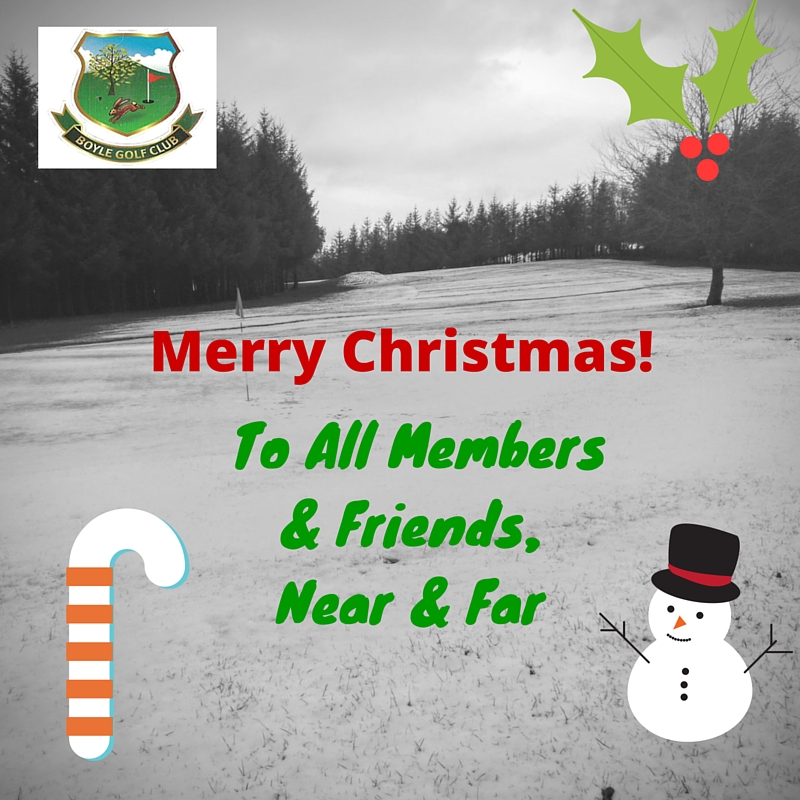 December 20th 2015
The Christmas Bonanza was held today with approximately 40 players competing. This year's President's Prize winner Martin Wynne claimed the top prize in the men's category with an excellent score of 42 points. He was closely followed by 2016 Captain Ross Andrew with 41 points. Gross was won by John McGuinn with 29 gross points off a nine handicap, while David Wynne finished in 3rd position with 40 points.
In the ladies section, the newly instated Lady Captain Tish Perry took top honours. Liz Dwyer was runner up and Susan O'Mahoney rounded off the top three.
Photos are available to view on Flickr. Click here for link or icon on header and select the relevant album. 
Next Sunday December 27th the traditional Christmas Scramble will take place. The draw will be made at 12.30pm and commence with a shotgun start at 1pm.
Finally, we would like to wish all members and friends of the club a Merry Christmas & a Very Happy New Year with much success both on and off the course in 2016.
December 13th 2015
The Christmas Bonanza which was scheduled to be held today was postponed due to inclement conditions. It will now take place this upcoming Sunday, December 20th weather permitting. Tee times can be booked on the BRS online system through the club's website.
The weekly Winter Open 9 Hole will also take place this week subject to golf course conditions.
Gift vouchers are available to purchase and would make an ideal Christmas gift. They can be used for bar/ catering facilities as well as contributing to membership fees. Regarding the latter, very keen rates exist for beginner players wishing to take up the game. Email Michael at Info@boylegolfclub.com for more details.
December 10th 2015
The Christmas Bonanza scheduled for this Sunday has been postponed. The course will remain closed for the rest of the week and won't reopen until Monday at the earliest.